At first glance, 3d Issue appears to impress; their website is visually appealing and easy to navigate. They also have a very active blog with plenty of useful articles, not just relating to flipbooks. We take a look in detail to see if they really are as impressive as they are at first glances, like a flipping book software.
In our previous article reporting on 5 popular flipbook software, we mentioned that 3d Issue didn't even rank on the first page of Google for flipbook software, despite it being such a professional product, offering a ton of services. They were active on Google Ads campaigns though, so perhaps the PPC is more effective for them than SEO. We're not judging them on their marketing techniques, however, so let's check out what they have to offer as a flipping book software!
They large range of services, but they have a dedicated Flipbooks page and all the benefits are laid out there. The first thing to notice is that they have a video in the header which explains how amazing their flipping book software really is:
However, the benefits they list seem to be available with most flipping book software:
Bring Publications to Life
Reach your audience, anywhere
Access reader behaviour statistics
Automate flipbook production
Control access to your content
How much does 3d Issue cost?
The most eye-opening section of the website would be their pricing; the figures shock you more than other flipbook software sites because the three (or four!) figure amount quoted is for a lifetime license, whereas other sites quote a monthly fee.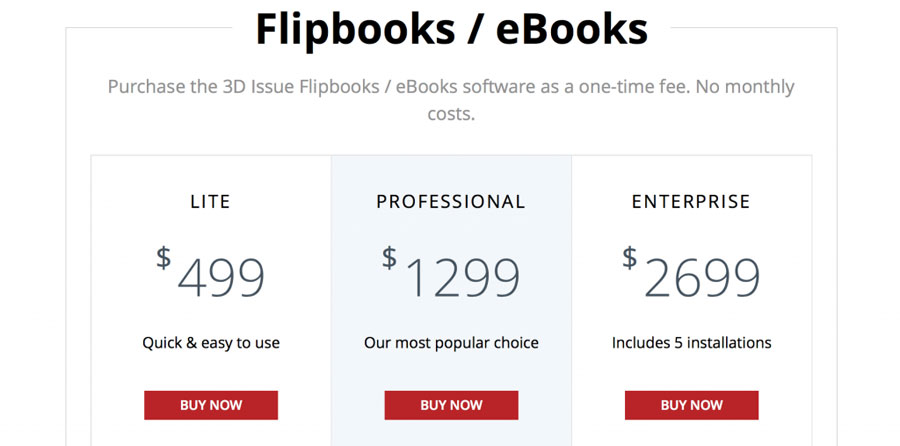 The lite version of the flipping book software does not even give all the features, so if you want the full impact of 3d Issue, then you would need the professional package, which will cost you a fair bit. There is also not a free version of 3d Issue, so unless you mean business with flipbooks, you will probably not enjoy having to fork out all this money.
Whilst browsing the site, their live chat feature popped up and we took this opportunity to find out from their customer service staff why their flipping book software was more expensive than their competitors. Young Patrick was not willing to go into large detail on the live chat but requested our email address to send further details by email.
A great sales email proceeded to come through and perhaps the most powerful section of the email was the comparison with Issuu, the flipping book software that many belief leads the pack. 3d Issue offers the Google Analytics function that allows you to track every click of your flipbook via the software. According to them, you would need to spend $432 a year in order to have this function with Issuu.
They also brag about the fact they have an App download too, with a cool "shelf" style app that updates automatically. Don't just take our word for it though, take a look at the comparison that My Caffeinated Content writes:

Huge Knowledgebase
The best thing about 3d Issue probably has to be the fact they have a ton of resources, which will make you feel really educated about their platform. They have webinars and you can actually watch the 3d Issue team make a flipbook live on the webinar. You can ask questions as they go along if you are not sure.
There are also over 50 videos teaching you various elements of the platform including creating shopping carts and different translations with your flipbook. It seems that after watching all these, there isn't anything you can't do with your flipbooks! A digital magazine will just click away.
Check out one of their example videos:
Conclusion
Regardless of what situation you are in, you will need to front a fair bit of money to even get your hands on the software. There is a 14-day trial, but this won't help if you are looking for a long-term solution.
However, their knowledge base, customer support, and webinars are fantastic and extensive – more so than other flipbook software. So, the 14-day trial is worth taking a look at to see if this flipping book software is right for you.













Last modified: August 4, 2021