If you're planning to create a dynamic flipbook as a marketing asset, you'll likely be looking around for the best possible software to help you achieve this goal. With dozens of flipbook software options out there on the web, it can be hard to know where to start your search! You might also be trying to stick to a strict budget, which could leave you weighing up the advantages of sticking with free flipbook software or going premium. Luckily, we've analyzed three of the top flipbook software programs on the web, looking at their free and premium options to see which offers the best value and the most effective tools. Check out the top three:
FlipSnack
FlipSnack is a web-based platform which allows you to create beautiful flipbooks online within minutes. You can use this tool to transform your existing PDFs into beautiful flipbooks, and there is an array of templates available if you need help getting your ideas off the ground. You can create unlimited projects, but each of your flipbooks must be fifteen pages or under – unless you want to upgrade to the premium version.
The premium version of FlipSnack offers you access to advanced analytics and stats, as well as a broader range of templates and the ability to include online shopping and PayPal integration in your flipbooks. For those who are creating a catalogue or product brochure, the premium version of FlipSnack would be a real asset. So, if you are in an industry where you require these features, the premium version is for you, rather than the free flipbook software version.
The verdict: If you don't mind your flipbook having a watermark, and you're happy for it to be under fifteen pages, FlipSnack is a great option as free flipbook software. E-commerce businesses would be better suited to the premium version, which is available with a range of monthly or annual subscriptions.

Flipping Book
This web-based software not only creates beautiful flipbooks, but it can also be used to develop beautiful documents and photo albums, making it a very versatile tool. The page-turning animation that Flipping Book offers is one of the most realistic, so if trying to create that authentic physical book experience for your readers, this tool is great.
The premium version of Flipping Book starts at $399, with more advanced packages costing as much as $1,199 – so it's hardly a budget-friendly option for those who are keeping an eye on their bank balance. That said, the premium version does come with a mobile app, advanced security features and the ability to embed advanced multimedia components into your flipbook.
However, those features are not quite for everyone, and most businesses do actually appreciate a free flipbook software option, which this does not have!
The verdict: Flipping Book is a powerful tool which offers a multitude of options – but if you're a small business, freelancer or charity organisation, you might find it hard to justify the cost of the premium plan.
iSpring Suite
This piece of software is only available on Windows – but it's one of the easiest and most straightforward flipbook tools out there. It comes with a wonderful collection of templates, as well as a full library of backgrounds and other components that can add real interest to your design. Once you've finished your flipbook with iSpring Suite, you can publish it in a mobile-friendly HTML5 format.
Unfortunately, the free flipbook software version of iSpring Suite comes in the form of a free trial, which lasts just 30 days. The premium version does open a range of new options, but they're not as advanced as the other tools in this article.
The verdict: If your flipbook is a one-off, this 30-day free option is ideal for you – but if you need a free flipbook software solution that lasts, you should look elsewhere.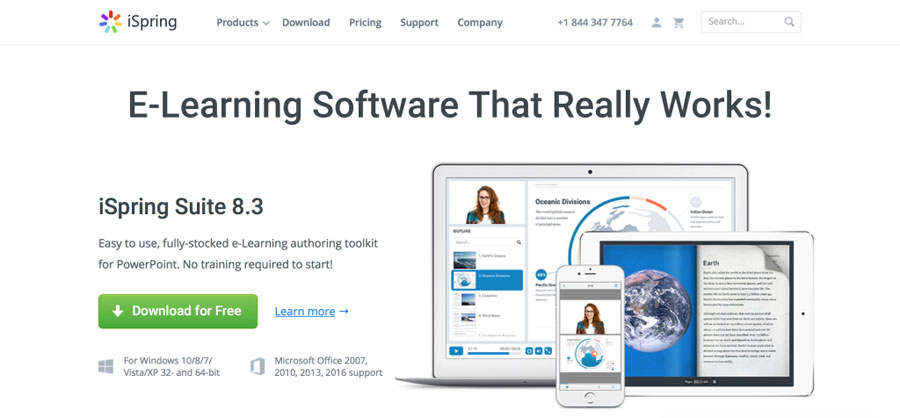 Last modified: July 2, 2021